Procedural Farm Generator
Procedural farm generator made in Unity, submitted for the Tools for Making Games module at the University of Lincoln.
Installation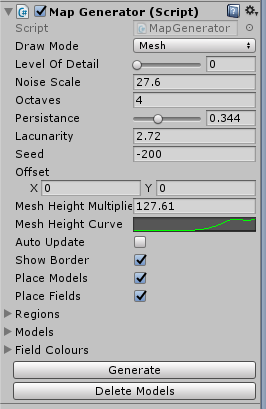 Clone the repo and open MainScene. Select the MapGenerator object, adjust the seed value in the inspector (shown above) and click Generate. Based on the seed, the farm scene will be generated in the editor. Use the editor controls to navigate.
Thanks
Special thanks to Sebastian Lague's video series on procedural landmass generation that forms the basis of the generator.