# NEO Color Picker 1.3 This is a simple color picker to be used in Unity.
Currently, it supports RGB, HSV, HSL and the HTML/hexadecimal codes.
Installation
All you have to do is download the latest NEO Color Picker .unitypackage from the Releases page and drag it into your project.
Note.: This includes NEO Utils 1.1.1 and may overwrite any previously installed version. If you want to use a more recent version of NEO Utils, install it after installing NEO Color Picker.
Usage
To add the color picker to a scene, just drag the Color Picker prefab (found in the Prefabs folder) into a Canvas. The color picker will appear white and without the slides in the Editor – that's fine, the sliders are created at runtime. You can easily modify the UI elements to suit your needs.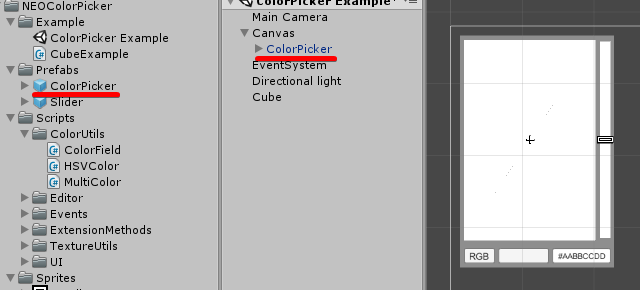 Code
The ColorPicker class allows you to:
Use ColorRGB, ColorHSL and ColorHSV to get and set the currently selected color, using any model supported. Values are between 0 and 1.
Use SetColorField and GetColorField to get and set a single color field (e.g. Hue) of the currently selected color. Values are between 0 and 1.
Use CurrentModel and AdvanceModel to get, set or advance the color model (e.g. HSL) being used by the color picker.
Use UsingAlphaSlider to get and set the visibility of the alpha slider.
Add listeners to onColorChanged to automatically invoke them when the color picker's current color changes. This can also be done through the Inspector:
An example scene can be found in the Example folder.
License