Squishy-Squirrel
Squishy Squirrel is a top-down endless runner game that is available on Android and uses Unity engine. This is a very fun and simple game in which the player takes the role as Squishy - a young squirrel whose family is ill because they accidentally ate human food. The main purpose of the game is to educate people about squirrel's nutrition and learn that human should not feed the squirrel directly.
App Specifications
Squishy Squirrel is built using Unity 2018.3.1f1
Features
Squishy Squirrel allows the users to
Control the squirrel by tapping left or right
Winning the game by eating healthy food: Acorns, brocolli and bananas
Losing the game by eating unheathy food: Pie and lollipop, and hitting the obstacles
Learn about squirrel's nutrition through the Feed Me panel
Mute and change the volume of background music and SFX
Views
Menu scene
Gameplay scene
When the squirrel hits healthy food vs when the squirrel hits unhealthy food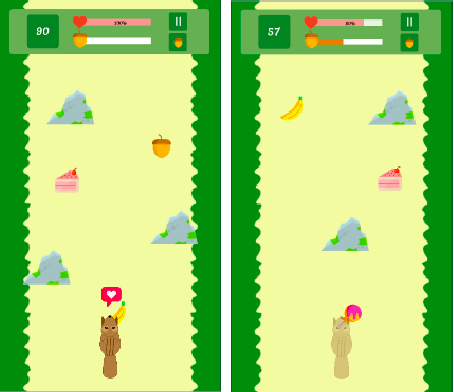 Setting, credit and feed me scene
Instruction scene
Gameover and gamewin scene
License
This project is licensed under the MIT License
Copyright © 2019 Thu Nguyen, Nhi Cung and Musa Khan
Permission is hereby granted, free of charge, to any person obtaining a copy of this software and associated documentation files (the "Software"), to deal in the Software without restriction, including without limitation the rights to use, copy, modify, merge, publish, distribute, sublicense, and/or sell copies of the Software, and to permit persons to whom the Software is furnished to do so, subject to the following conditions:
The above copyright notice and this permission notice shall be included in all copies or substantial portions of the Software.
THE SOFTWARE IS PROVIDED "AS IS", WITHOUT WARRANTY OF ANY KIND, EXPRESS OR IMPLIED, INCLUDING BUT NOT LIMITED TO THE WARRANTIES OF MERCHANTABILITY, FITNESS FOR A PARTICULAR PURPOSE AND NONINFRINGEMENT. IN NO EVENT SHALL THE AUTHORS OR COPYRIGHT HOLDERS BE LIABLE FOR ANY CLAIM, DAMAGES OR OTHER LIABILITY, WHETHER IN AN ACTION OF CONTRACT, TORT OR OTHERWISE, ARISING FROM, OUT OF OR IN CONNECTION WITH THE SOFTWARE OR THE USE OR OTHER DEALINGS IN THE SOFTWARE.